Florida's American Heritage River: Images form the St. Johns Region
Gary Monroe / Mallory O'Conner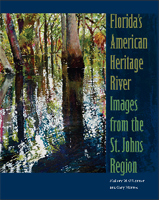 In 1998 the St. Johns River was declared an American Heritage River, the only one in Florida and one of only fourteen in the country to be so designated. Shortly thereafter, Mallory O'Connor and Gary Monroe began searching for paintings, sculptures, photographs, and material culture from the region. In antique shops and art galleries, nineteenth-century periodicals and twentieth-century fish camps, the authors found literally thousands of images. Two hundred are included in this book, some from the fine art tradition; others by self-taught visionaries. The result is a broad survey that captures and celebrates the visual mythology of this unique landscape.